The KPI Compendium
The KPI Compendium is an exclusive publication, presenting over 20,000 KPIs that have been identified as being most used in practice. It is an indispensable tool for both individuals and organisations, facilitating the identification and usage of KPIs.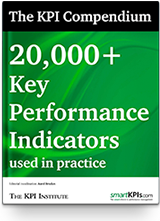 See in Store
The list of KPIs is divided into several categories, easily adaptable to your needs:
Organisational
further clustered into sub-categories based on Industries and Functional Areas;
Global
containing sub-categories such as Administration, Quality of Life, Environment and Pollution and many others;
Personal
addressing personal productivity and well-being, classified into sub-categories such as Home Economics, Personal Development, Fitness and Work-life balance.